I'm looking out at my panoramic view of darkness intersected with shining little lights, as strong winds are shaking my windows. There was a time when I thought strong winds meant big change. It always made me feel refreshed. Open. As if opportunity could come knocking any moment. Something new. Something different. Made me feel alive, as if looking upon the world with the eyes of a child. Exploring instead of passing by.
In Cape Town strong winds blow often, so often I've almost given up on the idea of change. Then again, my life has never changed as much as it has here.
Tonight, as I'm looking out, waiting to see if my windows are indeed about to break, I see one particular apartment building with different shades of light in almost all the windows. It looks so cozy, so warm. I know though. I know that within those walls many difficult things have happened and more are about to happen. It's in the township – a township which tales I'm writing a book about. They're often grim.
My mind flutters on. Thinking about a dance movie I've wanted to make here and a scene you can shoot with silhouettes dancing in a window. Beauty.
When I came here all I had was a dream of working in Africa. I walked straight into the township and got my hands dirty. It was quite the thrill. It still is. And the children here healed me, because they loved me in a way I'd never loved myself.
Yet, you can't expect to get your hands dirty without feeling the ripple effects of being soiled. My own life has taken one hit after the other due to my involvement with people here. The more I love, the more I get hurt. Without that love I'd be nothing though. That love gives me my life.
For a while it affected me really badly all the same. I had a hard time letting go of the helplessness and fear about things I could not change. Things that affected me through the kids I am raising. In part, that turned into self-hatred for not being able to do more.
Then, little by little, I picked up the pieces of my heart. I found poetry again. I started to draw again. I worked on my business. I let go of the pain as best as I could. I allowed myself to enjoy beauty again. I allowed myself to look into a window and see a story almost without feeling guilty about the pain inside that window.
That beauty that always used to sustain me came back to me. It was always my passion. My joy. And I found my road back to it.
We're all scared of love, because we don't trust it. When I came here I walked into a place that had been destroyed by people's hatred. By apartheid. I didn't understand why they were all so suspicious of me and it hurt. Sometimes it still does.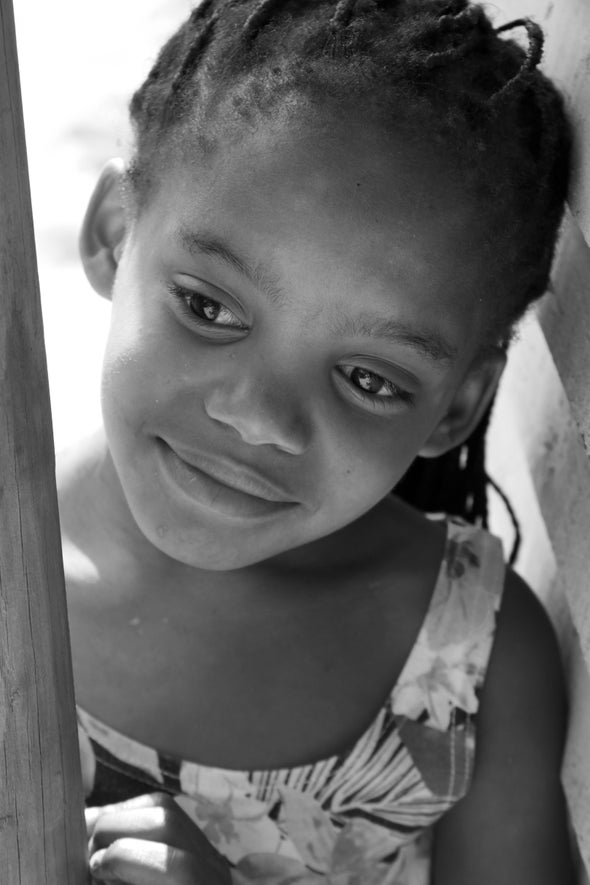 This child has taught me more about love than I thought possible when I first arrived, simply by loving me with an intense fierceness – I didn't choose to mentor her, she chose me.
During my years here I've had to learn what it's like to be accused of the weirdest of things. Everyone and their dingbat crazy aunt have come up with ideas about my very unflattering motives for being here. But if you stay and you serve, most people eventually see the real you. The one their twisted beliefs at first had a hard time distinguishing.
The aftershock of apartheid has taught me many things. Not least about my own wounds. Because we've all been wounded. Not by love, but the lack thereof.
I watched my gran die a slow death to dementia. I watched my biggest source of unconditional love slip away. I helped her use the bathroom. And I sat with her as she recounted tales that had never happened.
To me that's love. Love isn't pretty. Love is a sense of commitment to serve. And through that serving of someone's soul we receive joy.
The wind is really having a ball tonight and I'm sure it's bringing with it tales from many places. Whispers. Remnants of stories and scents. Feelings tinkling away in the night, disturbing our sleep. Knocking on our windows and making our doors squeak. This is my tale for tonight. My tale of love. And as it leaves my hands and flies away, it will knock on windows and make doors squeak, because wind or no wind, that's what tales do – they enter in the most unexpected of places and awaken souls with their words. Be the words grand, or very small; significant or pointless rambles.
Stories, like winds, are opportunities wandering in the night, opening doors to new realms. If you only care to see them.